Inland Empire Landscapers
January 2021 – August 2021
Build new website, rank for main keywords, build leads
10-15 High ticket leads per month
We took the website from nothing to receiving double digit high ticket leads a month
$5,000-$7,500 in lead revenue potential
With a conservative estimate at $500 for each project
We took the website from nothing to receiving double digit high ticket leads a month
Before work Performance Recap
InlandEmpireLandscapers.com was built from the ground up by Max Made Marketing. This required a fully functioning website to be designed and built as well as an SEO strategy to be formulated and executed. The purpose of the website is to generate leads for the landscaping industry in a specific region of Southern California. 
The landscaping industry can be very competitive with each lead potentially bringing in thousands of dollars of revenue. Given that there are hundreds of landscapers in the region it was important to have a highly effective SEO strategy that would allow the website to rank for high converting keywords as well as location specific keywords to help rank locally. 
It was important to develop the website to target locations and landscaping keywords that had a decent amount of search traffic that was also being under utilized by the competition. The website was to target landscaping related keywords in the Inland Empire region of Southern California. In order to rank for searches related to landscaping services in the Inland Empire we implemented a robust SEO strategy with key focuses on the following:
Build out website and content with keyword targeted service pages

Structure pages with main purpose of generating leads

Interlink the websites with optimized anchor text links

Optimize the title tags and meta descriptions to target intended keywords 

Add call to actions on the website in higher converting locations 

Create and optimize Google My Business profile 

Add relevant services to GMB profile

Create service, keyword, and location targeted posts to be posted on a regular basis linking back to website

Targeted press release
Google stacking properties for added backlink strength
Inland Empire Landscapers primary focus was to generate quality leads for landscaping services. Each lead is potentially thousands in revenue so we wanted to focus more on leads and conversions as opposed to robust traffic numbers. Below are two key metrics.
-The conversion rate is the percentage of people who visited the website that ended up either filling out a contact form or making a call to Inland Empire Landscapers.
-If we average every lead to be $500 (which is quite modest for the landscaping industry) that is roughly $5,000 – $7,500 per month in income.
Avg. Potential Income per month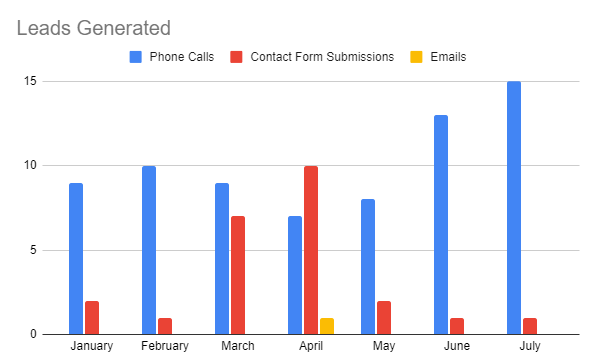 Keyword Rankings In Local Area
| | |
| --- | --- |
| Keyword | Rankings 6/1/2021 |
| Landscaping inland empire  | 2 |
| Landscapers in my area | 1 |
| Landscapers near me | 1 |
| Landscape designer near me  | 1 |
(From Google Search Console)

Search growth since website launch

Become a Max Made Marketing Success story
At the end of the day it's not really about rankings, but about conversions and income. Any good SEO strategy doesn't just try to grow traffic to a website, but to attract the right traffic that is more likely to convert into a customer. Inland Empire Landscapers was unique in that there were a couple different options to go for when targeting locations with the one with the largest search volumes and competitor gap being chosen. SEO is a long ball game and one which will be ongoing for Inland Empire Landscapers, but the progress made in 6 months has been great thanks to a well strategized game plan. Contact us to get the right SEO strategy for your business.